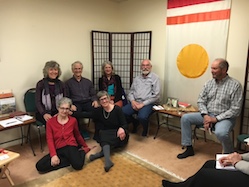 Goal $5700 • Raised $3250 
(2016) The Shambhala Working Group on Aging ~ The purpose of this project is to create the Aging Hub, an accessible, relevant and easy-to-sustain website for Shambhalians.
The site will serve as a source of inspiration as well as a repository for information and resources on aging for the entire Shambhala mandala, supporting people so they can care for themselves and others as they age. The site will also support the activities of Societal Health and Wellbeing groups at individual Shambhala Centers. The need for this website is a direct response to the findings from the survey that the Shambhala Trust supported in 2014, "Leadership Voices: Report on the Aging in Shambhala Survey."
This new website (http://aging-hub.shambhala.org) will have four different sections:
News and current information in a "timely format" (it will not actually be a blog). A feed of articles in The Shambhala Times related to the topic of aging. We would work with the Editors to formalize explicit criteria for the use of the "aging-in-enlightened-society" tag. The recent article by Larry Barnett on "Crossing into new Territory" is a good example of a relevant article that is not tagged correctly. When articles are tagged correctly they would appear automatically on the Aging Hub. (As a separate effort, the Working Group on Aging will be making an effort to get regular articles and announcements in the Shambhala Times.) We will investigate whether a similar feed from Shambhala Online could automatically reference relevant videos or events.