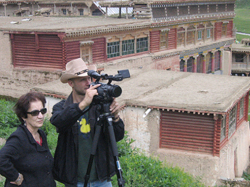 Goal: $10,000 • Funded: $4,450
(2009) To make a feature length (90 minute) documentary film on the life and work of Chogyam Trungpa, Rinpoche for worldwide distribution and community use.
It also aims to reflect the major role he played in bringing Tibetan Buddhist teachings to the west. This portrait includes a look at his life in Tibet and the influence of that culture, an exploration of his "crazy wisdom" teaching approach, his vision of creating an enlightened society through the Shambhala teachings and Dharma Art, and his own unwavering commitment to being a full human being with a completely open heart and mind. For Shambhala International, the film will be a definitive portrait of his life and work and his influence on the world. Perhaps more than any other medium, film can bring together his history, his teaching, his life and his own vast and unique energy.