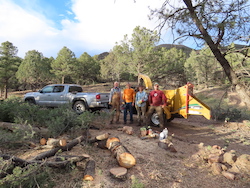 Goal $10,000 • Raised $5,800 (2020)
This DKD Firewise Action Plan presents specific activities to mitigate wildfire hazards at Dorje Khyung Dzong Shambhala Retreat Center (DKD).
This Firewise Action Plan was initially developed in 2020 to address the wildfire hazards as assessed by Jared Fleming – Forester, Colorado State Forest Service, Paul Branson – Huerfano County Wildfire Preparedness Coordinator, and DKD Director, Dan Benson
This Firewise Action Plan is submitted to the National Fire Protection Agency (NFPA) for DKD's certification as an NFPA Firewise USA site. This certification was initially approved on 7/14/2020.