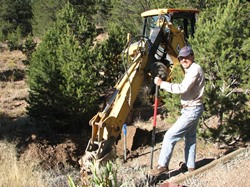 Goal $ 7000 • Raised $6000
(2016) This grant would be used to help fund the replacement of underground potable water piping that has frozen in three of the last four winters. Frozen water pipes interrupt water supply to retreatants and staff.
When pipes freeze, they crack and leak, and the leakage rate has now reached a point where it exceeds water production. Water quality has also been affected. The new replacement piping will be buried deeper below the frost depth and away from areas prone to surface erosion. Defunct water hydrants and leaking underground valves will be relocated and replaced. Roads and landscape will be remediated in construction areas.