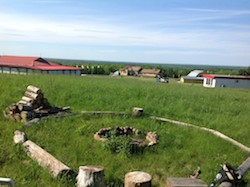 Goal $3,523 • Raised $1,620 (2020)
Dorje Denma Ling seeks financial support to improve the main entrance to the land that will allow people to experience the magic of the sacred mandala on their arrival. The current driveway cuts into the heart of the mandala and does not protect the inner court where the most sacred teachings are offered.
The current driveway/entrance to the property heads directly toward the inner court; it also separates the administrative building from the main shrine and kitchen which permits obstacles to interfere with daily operations.
The first step of this project will be to work with Bill MacKay, who assisted in the planning of the original Gyatso driveway. With his support, we will develop clear plans for the full project, including improvements to the current Gyatso driveway, which needs to be widened to accommodate cars moving in either direction, with a culvert added to improve drainage (see pictures).