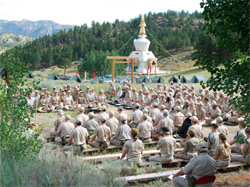 Goal: $4,000 • Funded: $4,000
(2010) This project seeks to digitize over 220 talks in the Dorje Kasung MPE context by both Chogyam Trungpa Rinpoche and Sakyong Mipham Rinpoche, as well as talks by other senior teachers within the Dorje Kasung context.
The original tapes will be preserved as digital recordings in several formats. These approximately 220 talks are reaching the end of their life. This project seeks to save these teachings and make them available for members of the Dorje Kasung, for senior teachers, and for other efforts that wok with these teachings. The project will be supervised by Makpon Jesse Grimes, head of the Dorje Kasung and Carolyn Gimian, Directory of the Chogyam Trungpa Legacy Project. The project will take approximately two years, starting in June 2010.