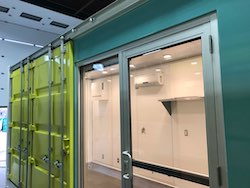 Goal $4000   •   Raised $2945  (2022)
For the last five years the health care at the Cornwall Regional Hospital (CRH) in Montego Bay Jamaica, which is the main hospital for the Western Region of Jamaica, has been seriously compromised. The hospital has been undergoing a multi-year major rehabilitation due to significant building problems of; toxic fumes/poor indoor air quality, black mold, water leaks, asbestos contamination, electrical issues, and structural damage. The hospital has been reduced to an inoperative status and is carrying out procedures and operations outside its main building.
Currently the waiting time for cataract surgery at CRH is 5+ years.
In order to support the Cornwall Regional Hospital as rapidly as possible the Eye Health Institute has entered into an agreement with the Ministry of Health/CRH to provide 2 clinic modules which would allow for eye surgeries to be performed on the hospital grounds. The fully equipped modules will be free of charge to CRH. The modules will be outfitted with surgical tables, surgical lamps, slit lamp microscopes, refrigerated storage for vaccines and eye medicines and an Alcon Phacoemulsifier Vision System for Cataracts removal. The clinic modules have been generously designed and provided by the University of Michigan. They are completed and being packed for shipment to Jamaica. Due to the emergency nature of the situation the EHI has advanced the $13,263 from our operating account to purchase the needed equipment to make the surgical modules operational.