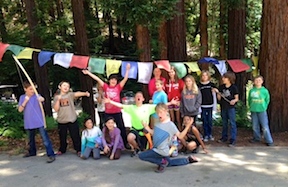 Goal $6,250 • Raised $6,250 (2017)
Growing Brave is a group of Shambhala practitioners who are working to raise the awareness and support of families and children within the Shambhala community and larger society.
By having online courses, gathering and sharing resources throughout the mandala, and planning their first conference (Boulder Shambhala Center, October 6-9, 2017), they intend to create sustainable systems to standardize, develop and implement curricula, programming and materials. They also intend to establish a working structure for children and families that will have a seat within the Shambhala governance mandala.
The Trust funded an interactive website that will help centralize contact information, resources, discussions and calendar events throughout the mandala for families and children. This online platform will also allow for various subgroups to continue the work of standardizing children's curricula or creating an official guide to offering Rites of Passage.