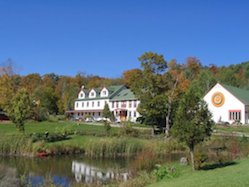 Goal $7827 • Raised $2650
(2016) Karme Choling's current Internet service is a DSL system (running on two lines for staff and a third line for guests), which has very limited capacity to carry data. During business hours, 15 or more staff members may need to be on-line at any given time – a load that can slow down the system significantly. The third line, which is available for guests, frequently begins to slow down if more than 3 people are on at a time. These limitations are a major lungta drain for staff and guests!
Conversion to fiber optic service at 50 megabits/sec will bring our Internet capacity up to meet demand and, with additional network equipment, will enable access throughout the Main House. The new network equipment also will increase data security and will enable mandala-wide streaming of AV Archives media.