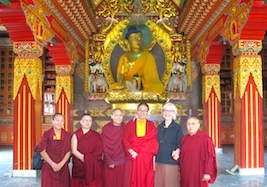 Goal $5000 • Raised $5000
(2016)  Treasure Caretakers is proposing an on-line manual as a source for monasteries to learn how to best preserve, protect, and safely use their Buddhist lineage treasures, including irreplaceable and unique thangkas, statues, texts, textiles, and puja materials.
Recent earthquakes and other disasters in Asia have highlighted the need for accessible, up-to-date and professional information to help protect not only the treasures but those who who are entrusted with their care. Treasure Caretakers is bringing together FEMA-trained disaster experts and art restorers with knowledge specific to monastery artwork, organization and personnel. The purpose is to design and deliver a manual accessible on mobile devices that is written and translated with sensitivity to each monastic community, addressing global needs in a clear, practical, and attainable manner. The manual format will be easily updatable and also able to accommodate topics in detail, such as disaster assessment, prevention, safety and response.
The benefits of the online manual will be to support communities to lessen the impact of natural and human disasters on cultural heritage through easy to learn steps. This crucial guide will be distributed free of charge via the web to Buddhist monasteries worldwide with translations into Tibetan, Hindi, Nepali, Dzongkha and other relevant languages.