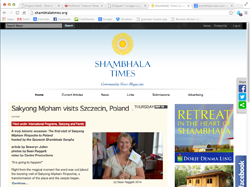 Goal: $10,000 • Funded: $6,512
(2008) An online Shambhala news magazine would support the exisiting Shambhala News Service (SNS), by allowing more in-depth coverage, follow-up, and reflection on events in Shambhala than single e-blasts allow.
The online Shambhala News Magazine offers a central site for a variety of news on an international, regional and local level. It would increase the channels for the center of the mandala to disseminate information outward, for local Shambhala Centers to communicate laterally and regionally, and for Shambhala members to share announcements, requests and opinions.
It will feature a homepage with top stories and follow-up pieces; subpages arranged by categories (current events, community, center news, arts, editorial, classifieds); special pages for regional news; and news bulletins from Shambhala entities. Much of the site will be public, but members can also log in to view all the news.