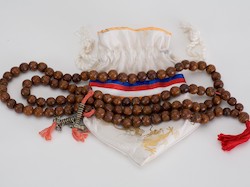 Goal $4740  •   Raised $2427 (2022)
Provide Archives with an updated inventory for the database of the VCTR Ladrang (the personal belongings of VCTR); to replace old or damaged archival quality tissue and boxes; and to rearrange and update storage site for optimal valuables safety and removal; to re-write Disaster Emergency Preparedness plan.
We hold precious objects that are thoroughly documented in our database but have not been inventoried for several years. An update will provide us with valuable information about condition requirements, location and descriptions for conservation, exhibit and insurance purposes, and to re-write our Disaster and Emergency Preparedness Plan..
Replacing archival wrappings and boxes will assure the safety of the artifacts for the future.. The Disaster Preparedness report will facilitate safety of the most precious objects in case of fire, flood etc.