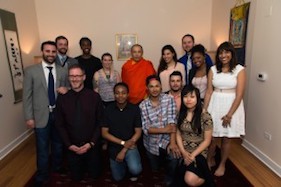 Goal $16,000 •  Raised $13,900  (2017)
The purpose of the Shambhala People of Color Scholarship Fund (SPOCSF) is to support the Shambhala mandala's aspirations related to diversity by making available financial assistance to People of Color on the Shambhala Buddhist path who aspire to attend programs that will enable them to contribute more fully to Shambhala society and to be of benefit to people who share their backgrounds.
There is a particular need to support qualified students on journeys leading to MI, teaching and leadership roles within the Mandala. Greater diversity among the Mandala, and especially its leadership, would be of vast benefit to the Mandala, and be aligned with fulfilling the Vision of the Sakyongs for its vibrant and confident societal manifestation.
The scholarships disbursed in 2014, 2015, and 2016:
2014 6 grants @ $500 Enlightened Society and Sacred World Assemblies
2015 4 grants @ $500 Enlightened Society and Sacred World Assemblies
2016 4 grants @ $500 — information coming —