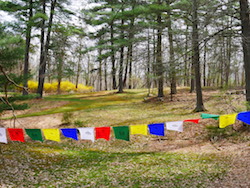 Goal $5,000 • Raised $2,720 (2020)
We are proposing a simple modernization of several bathrooms. Upgraded bathrooms will allow us to offer the rooms on Air BnB and other platforms during high tourist seasons.
Statement of need: In the bathrooms, the shower backings are coming away from the wall and some are disintegrating. The toilets are very old, not economical, and low to the ground. The linoleum on the floors is peeling away in many places, and the wooden sink surrounds are rotting. In the bedrooms, the curtains are faded with age.
In the age of social media, photos of mold or old bathrooms can be shared and can be a deciding factor on whether someone wants to book a room or retreat at Sky Lake. That sort of publicity prevents bookings, no matter how high our reviews might be for friendliness and warmth and good food and hospitality.