Goal $9000 • Raised $8360 (2015)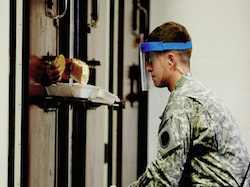 Mindfulness Peace Project's program, Solitary Confinement, which was initiated at a request from the Colorado Department of Corrections (CDOC) addresses the two current prime concerns of the US criminal justice system, which are (1) reducing the abysmally high incidence of psychosis and suicides among the inmates in solitary confinement units and (2) providing reentry training for solitary inmates nearing release.
The US uses solitary to an extent unequalled in any other democratic nation. The majority of the time solitary inmates, who may have been in isolation from months to years, are released directly into the community with no preparation and no support. The incident of these newly released inmates turning to crime poses a real threat to community safety. For example, the last Executive Director of the CDOC was murdered 2 days after such an inmate's release.
As we know from our personal practices and from the feedback from participants in MPP's other programs, mindfulness meditation and training contribute significantly to success in handling the multiple challenges of daily life in and out of prison. These conclusions have been substantiated multiple times by neuroscientific and psychological research over the past ten years.