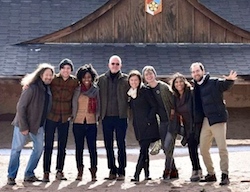 Goal $4,000 • Raised $1,845 (2020)
The Arrow: A Journal of Wakeful Society, Culture & Politics is a groundbreaking online publication examining the applications of Shambhala and Buddhist wisdom to today's pressing global challenges. Inspired in its founding by the teaching and social vision of meditation master Chögyam Trungpa Rinpoche, The Arrow fosters dialogue on contemplative inquiry, embodied knowing, and intellectual disciplines for achieving a kinder, healthier, and more compassionate world.
In this project, we aim to undertake a two-pronged effort to build The Arrow Journal's capacity in the domains of authorship and readership with the goal of growing the publication into a subscription-based periodical, published on a quarterly basis. To date, The Arrow has largely operated on a sporadic schedule, tapping the personal networks of the journal's editors and advisors to write. We need to expand our readership in order to grow our donor and subscription base for the content we will produce with a larger author pool. Within the context of our 2020 capacity building work, this project will (1) grow our author network with the support of a contractor skilled in community outreach and relationship building and (2) equip us to grow our audience by building digital infrastructure and protocols for strategic and consistent social media marketing. Expected results at the end of 2020 include a significantly larger network of authors and an increased rate in readership growth.