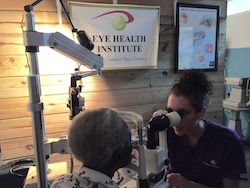 Goal $8,100 •  Raised $8,100 (2018)
The Eye Health Institute, a non-profit based in Boulder, Colorado, has provided vision care to the residents of Jamaica's small towns and surrounding communities for more than 18 years.
The Jamaican Ministry of Health does not have the financial or personnel resources and capacity to serve their rural health communities.  Health facilities are understaffed and modern medical equipment is not available. EHI teams of volunteer practitioners from the U.S. and Canada – doctors, nurses, interns and non-medical volunteers – visit the island every six months to provide eye care services to the rural Parish of Hanover where diabetes, hypertension, cataracts, and glaucoma have resulted in severe visual impairment and preventable blindness.
Funding from the Trust will go toward the purchase of two pieces of portable ophthalmic equipments: the 2Win Auto-Refractor (*the priority) and the iCare Tonometer.