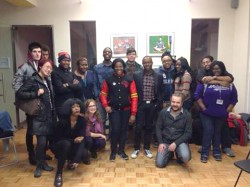 Goal: $10,000 • Funded: $10,000
(2014) To host an inaugural "Week of Mindfulness" in New York City for vulnerable and homeless youth to practice meditation
Specifically, the Reciprocity Foundation and Shambhala NYC volunteers will host Mindfulness sessions at 20 different schools, homeless shelters and youth centers in a single week to teach Shambhala Buddhist meditation to vulnerable youth.
There are roughly 1,750 youth living on the street each night in New York City. This is only the homeless and street-involved youth. There are nearly 12,000 "Vulnerable Youth" living in foster care, group homes or in high-risk family situations in New York City. Most of these young people have little or no access to Contemplative practice and wind up engaged in violence, aggression, substance abuse and illegal activities.
To combat this large and growing trend, we have created an idea that will raise the awareness of Meditation & Contemplative Practice by hosting an annual Week of Mindfulness. The week will engage vulnerable youth from all 5 boroughs in meditation sessions in schools, drop in centers, homeless shelters and group homes.