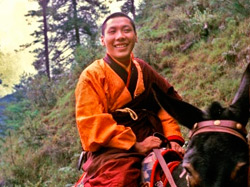 Goal: $6,100 • Funded: $4,725
(2012) To record and archive the epic story of Trungpa Rinpoche's 1959 escape from Tibet by interviewing survivors of the escape now living in Samye Ling, Scotland and Seattle, Washington.
Trungpa Rinpoche's account of his escape in 'Born In Tibet' is incomplete as only a fraction of the book is devoted to the escape. The story needs to be fully chronicled and brought to completion through the accounts of others who were there. Akong Rinpoche and Lama Yeshe were members of the original escape party, and made it through to the end. All the accounts are essential to deepen and broaden our understanding of this journey. These interviews will be organized, transcribed and archived for future use. The Trust's funding will go toward this endeavour.