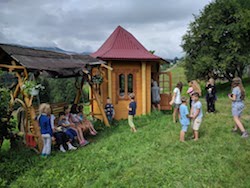 Goal $3,900 • Raised $3,900
(2019) Family Camp is a major entry program for families, many of whom are new to Shambhala. At least half the participants at FC Ukraine were not practitioners. Families plan their entire year around Family Camp. For some, it is their connection to Shambhala culture.
Political instability and other challenges made hosting a 2019 Family Camp not possible. This is a request to the Trust to help us re-gather the momentum for a Ukraine Family Camp 2020.
There are special challenges with Family Camp in Ukraine. Without a land center, the container must be created afresh and all supplies brought in. And until the reservoir of experience deepens, Ukraine will look to teachers and staff from afar.
We are planning a nine-day program in the summer of 2020. Priority action steps include:
– Finding a new location (the Inn used in 2018 was inadequate)
– Determining key dates for Family Camp and pre-Camp preparation and set-up
– Recruiting teachers and staff: coordinators, head of practice & study, head dekyong, health and well-being, protection, teacher for the adult program, teachers for the children, translators for both
– Communications, outreach and advertising.